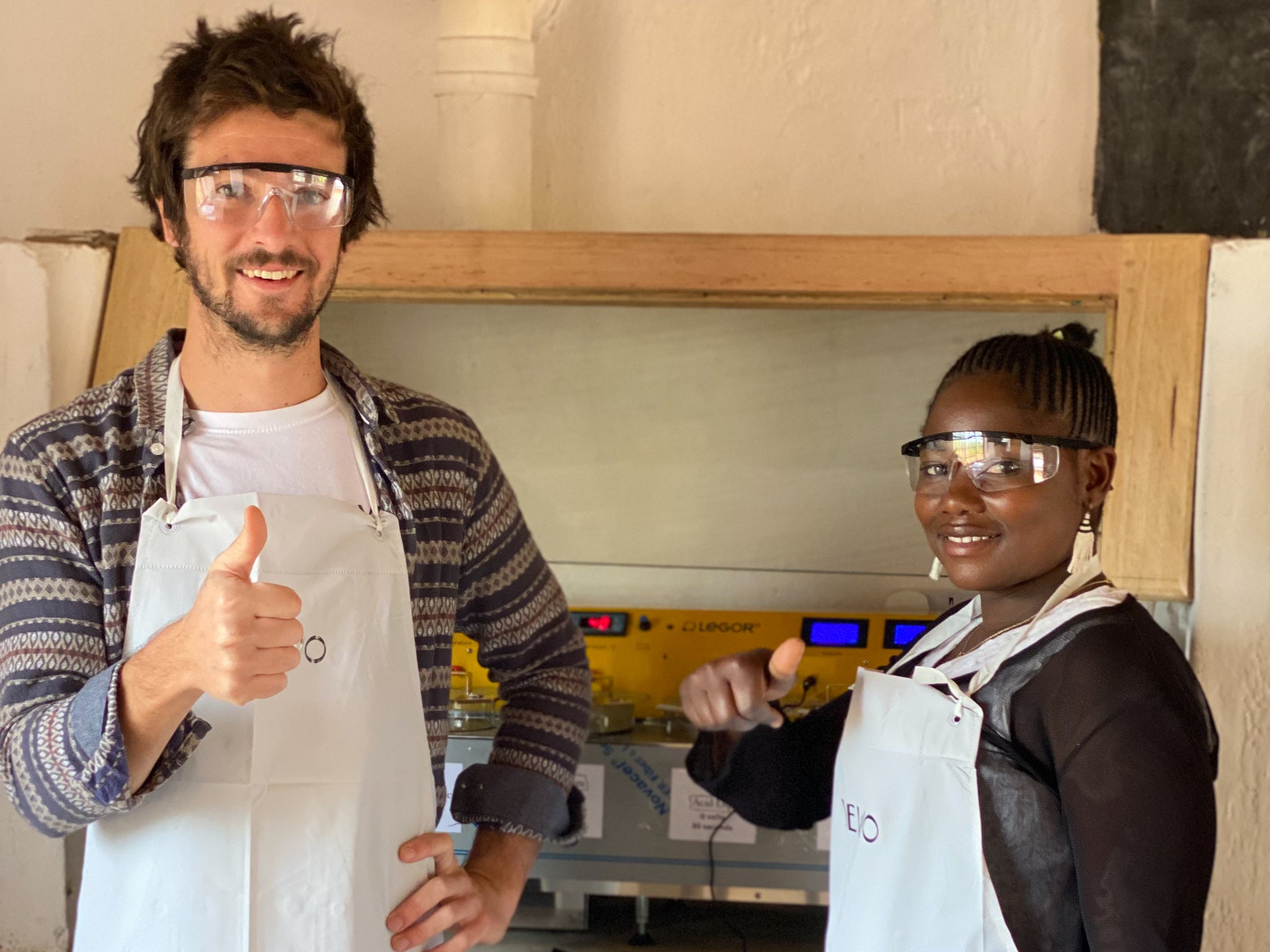 A HOLISTIC APPROACH TO SOCIAL & ENVIRONMENTAL RESPONSIBILITY
People & Planet First Impact Model
As a purpose-driven social enterprise, we are committed to a more responsible way of doing business—measuring success by impact, not profits.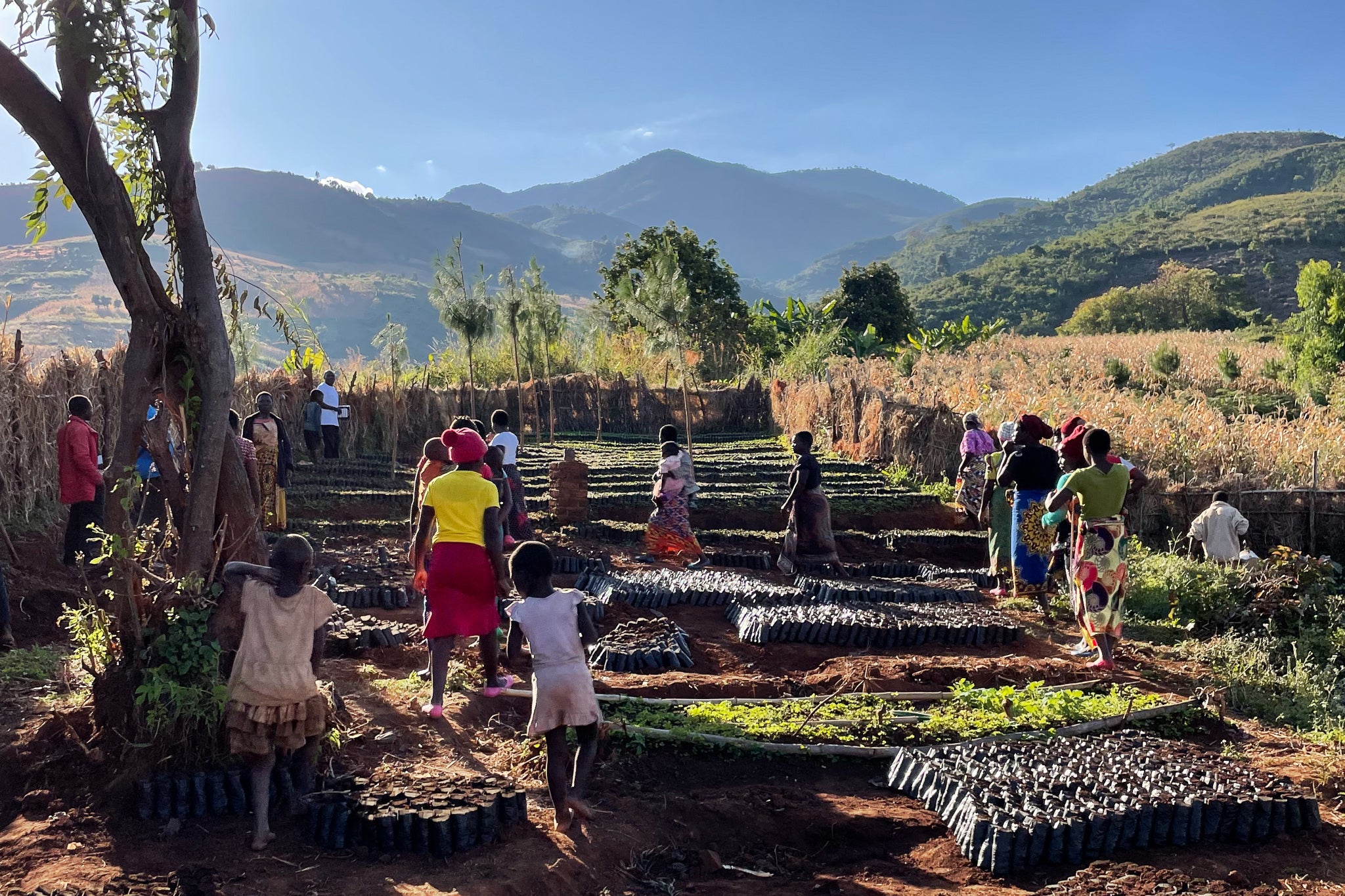 OUR WHY
We work to address inequalities, improve the livelihoods of marginalized communities, and end intergenerational poverty in rural Malawi.
OUR HOW
We operate as a values-driven enterprise through our holistic impact model, creating equitable economic & environmental opportunities.
YOUR SUPPORT
We believe that together we can make the world a better, more equitable place by thoughtfully considering the items we bring into our everyday.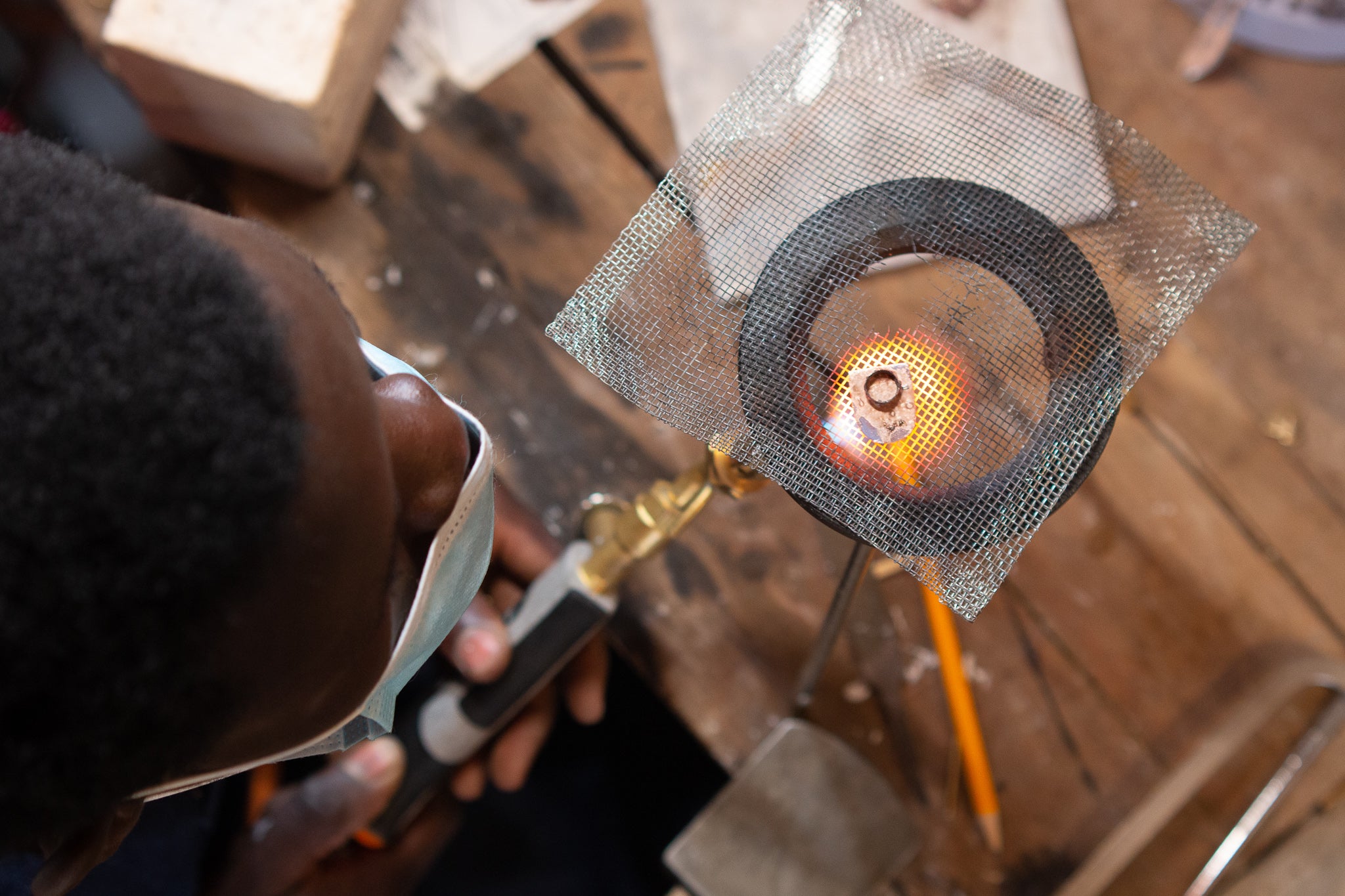 YEWO JEWELRY : CREATING DIGNIFIED WORK
In-House Training & Employment
With few opportunities for employment, education, or professional skill development, many people in rural Malawi are left with limited options for growth.
YEWO was created to provide opportunities that improve lives, invest in local leadership, and strengthen communities.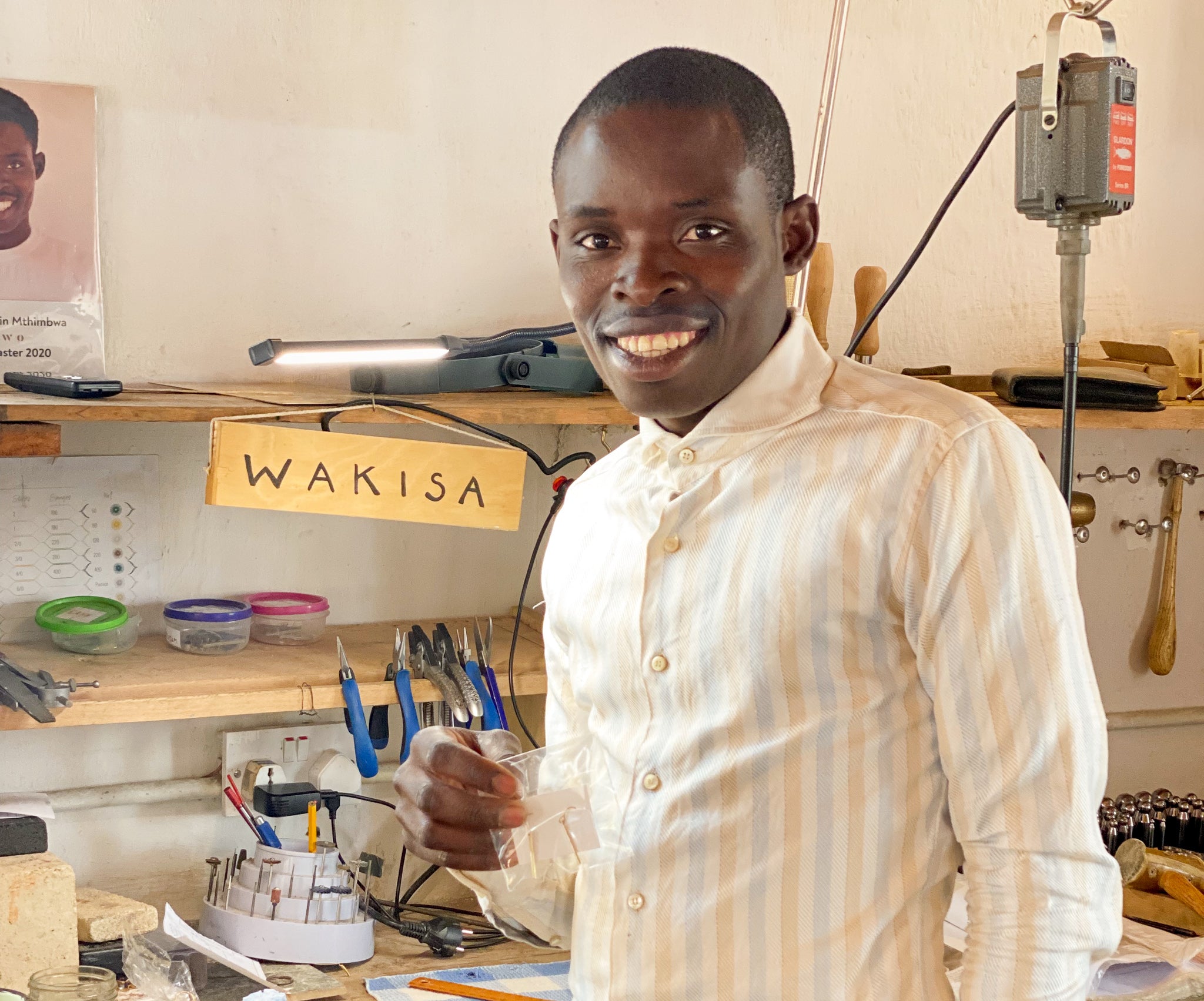 SKILL SET TRAINING PROGRAM +
We work to alleviate poverty and empower communities in rural Malawi. We do this by providing skillset training, living wages, and social benefits, creating meaningful work and lasting sustainable development.
Through the YEWO Training Program, we provide unemployed individuals with a 6-12 month paid, in-house training in the areas of: metal-smithing, lapidary stone cutting/setting, jewelry fabrication, gold-plating, and manufacturing management.
DIGNIFIED EMPLOYEMENT & LIVING WAGES +
Once graduated from the YEWO Training Program, individuals are provided a monthly living wage salary 2-5x higher than minimum wage. 76% of our employees are receiving a salary for the first time, ever.

We calculate living wages based on the Anker Methodology, which reevaluates the local cost of living on a regular basis to ensure that the lowest salary we pay is more than enough to provide for a household in Northern Malawi.

Using this methodology, a living wage ensures employees earn enough to improve their standards of living, invest in their future, and prevent them from falling back into poverty.
SAFE WORKING CONDITIONS & SOCIAL BENEFITS +
Inside the YEWO workshop, we promote a family-like environment with safe working conditions, ensuring employee personal fulfillment, and a focus on gender equality inside, and outside, the workplace.

In addition to Living Wages, we offer our entire team (including YEWO cooks, cleaners, and watchmen) holistic social benefits to ensure personal success. These include:
- 32 paid days off
- Two meals a day
- Maternity leave
- Pensions/Retirement support
- Access to interest-free developmental loans
- Educational resources for personal growth
- Career advancement and management training
- Financial literacy opportunities

YEWO HOME GOODS : CREATING HOLISTIC ECONOMY
Independent Artisan Partners
COMING AUGUST 2023
We have connected with many talented independent artisans with incredible skills who create goods using sustainable practices and natural materials, but need access to a global market.
Our New Artisans Partnership Program creates greater socio-economic impact in Malawi, bringing you designs with a soul and a story.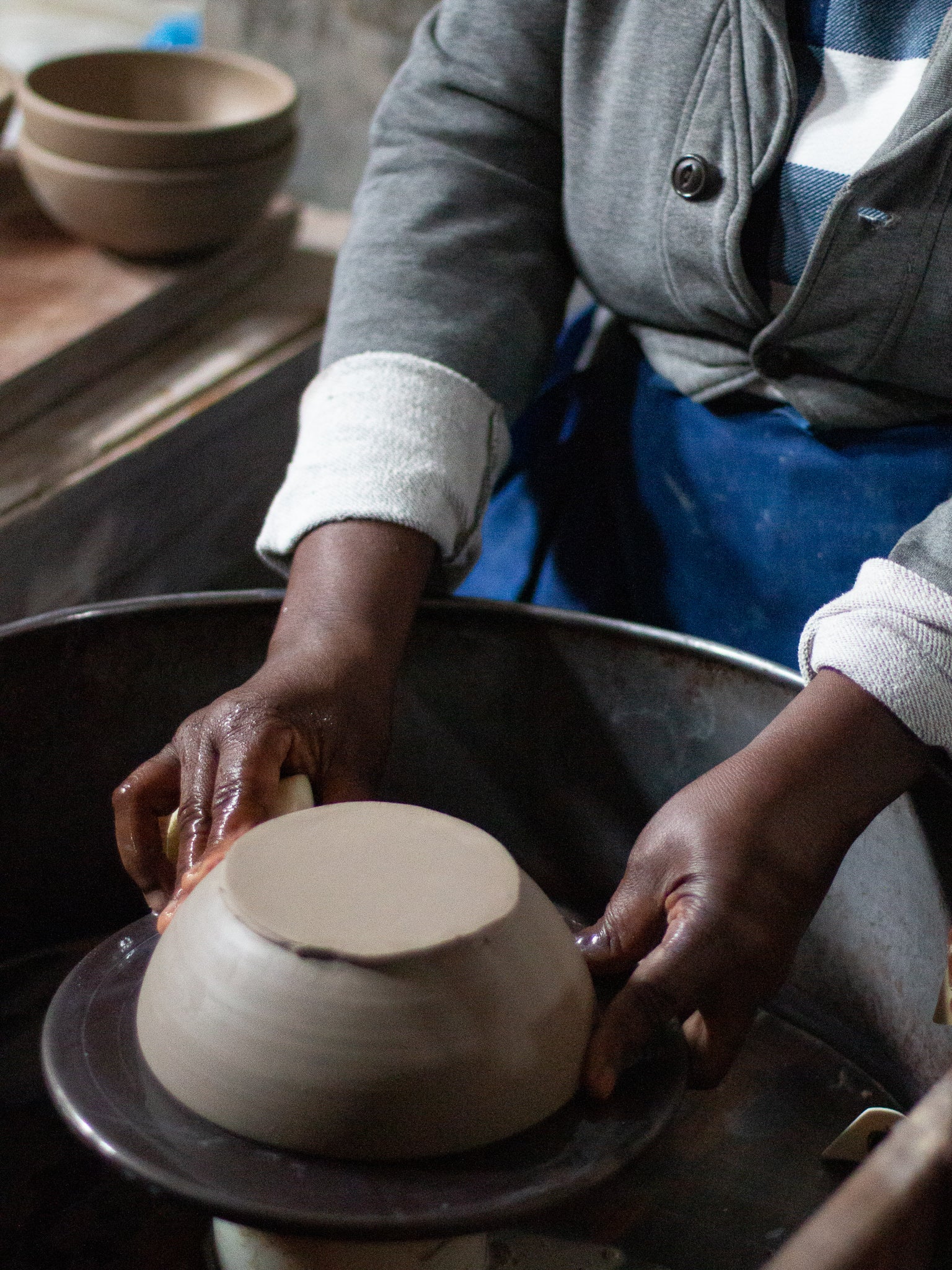 INVESTING IN ARTISANS +
We work one-on-one with our artisan partners to share design ideas, and purchase products directly at a price determined by them.

We reinvest in their craft through the YEWO Artisan Support Fund which helps equip small scale makers with the tools and resources needed to grow and excel at their craft.

YEWO Collective provides a platform needed for these talented makers to share their craft with a global audience.
FAIR TRADE STANDARDS +
We work to establish sustainable and personal relationships based on dialogue, transparency and respect with every one of our artisan partners.

Within these relationships we have a shared agreement to adhere to Fair Trade standards at every stage of our partnership to ensure our artisan partners feel heard, valued, and empowered.

Our artisan partners set their own price. We pay fairly and promptly, and offer funds in advance to ensure our partners are set up for success.
SMALL BATCH +
To honor traditional artistry, our artisan partners utilize small batch craft techniques, using low carbon emissions and zero waste throughout the entire process.

We believe in the power of small-scale, honest goods  that enrich our homes and give back to the people who made them.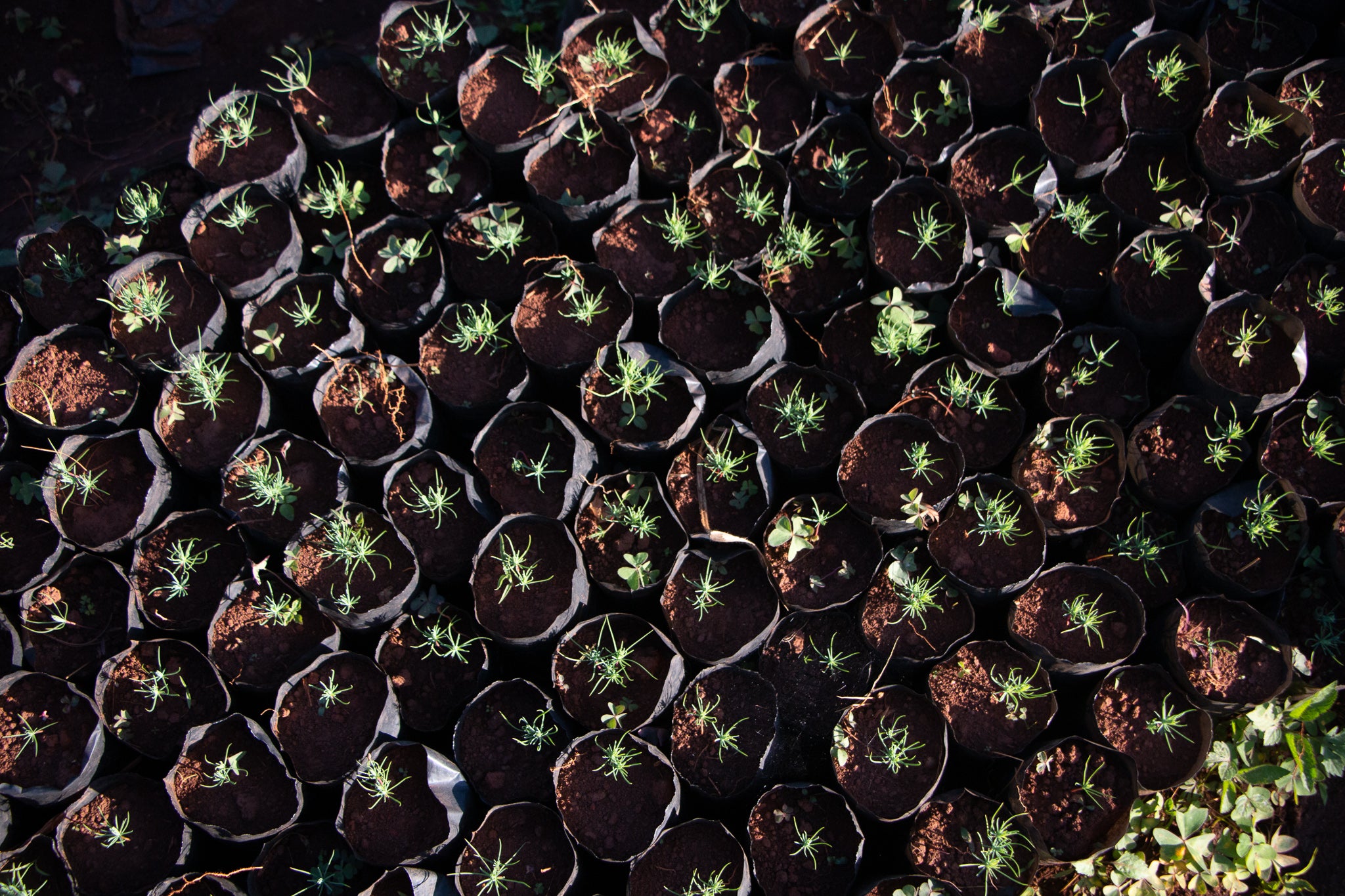 YEWO CONSCIOUS MANUFACTURING
Sustainable Production
Our entire production ecosystem aims to reduce our impact on the environment, while giving back to our planet through reforestation efforts.
Every piece of YEWO jewelry is responsibly handcrafted at our solar-powered workshop in Northern Malawi.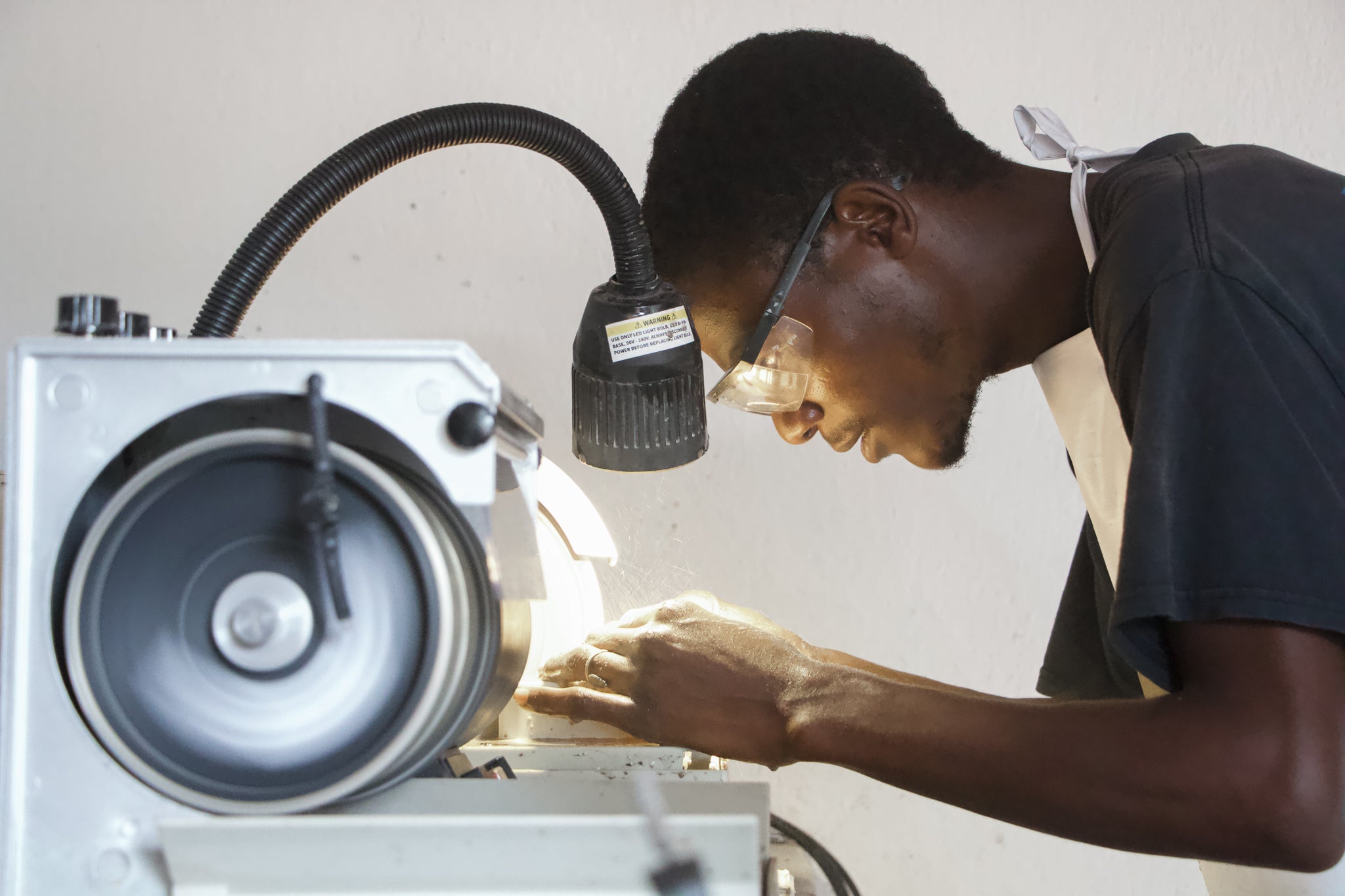 SOLAR POWERED +
Our off-grid workshop is 100% powered by solar energy; a renewable, clean and sustainable power alternative.

Solar power reduces our carbon footprint and greenhouse gas emissions, and mitigates climate change.

When we face many cloudy days, we use hydroelectricity from the local waterfall as our back up renewable power source.
100% RECYCLED GOLD +
100% of our 14k gold is traceable, conflict-free, and from recycled sources that are certified by the Responsible Jewelry Council (RJC) and Chain-of-Custody (CoC) Standard.

Recycled gold is developed from pre-existing gold material that is refined to remove any impurities and imperfections, lowering the carbon footprint of each piece of jewelry.

Read more about our sustainable and quality materials on our MATERIALS PAGE
ECO-FRIENDLY PACKAGING. +
All YEWO packaging is plastic-free, compostable, recyclable and/or made from recycled materials.

Our individual pieces are packaged in cotton pouches, which are designed to be reused. Marketing material made from 100% recycled paper.

Online orders are mindfully packaged in mailers and boxes made from 100% recycled materials, sealed with plant-derived tape made from FSC-certified materials entirely plant-derived, renewable, and compostable.

YEWO REFORESTATION
Every Item Plants a Tree
For every YEWO product sold, we partner with a women's reforestation co-op in Northern Malawi to plant a tree, ensuring a greener future for all.
WHY REFORESTATION? +
Today only 3-5% of Malawi is forested, and with more people are relying on cutting trees to serve their basic needs, this rate of deforestation will continue to lead to more devastating natural disasters.

We work to provide a long-term solution to global climate change and reforestation efforts in Malawi by supporting the Sumphwi Group, a local woman-led Reforestation Initiative based 15km from the YEWO workshop.

For every YEWO item sold, we work with the Sumphwi Reforestation Group to plant and care for one tree in Northern Malawi on your behalf. For every 10 trees planted, one tonne of carbon is absorbed, creating a greener future for all.
THE ROAD TO CARBON NEUTRALITY +
Carbon neutrality is attained when a company offsets its carbon emissions by supporting a project that sequesters the equivalent amount of carbon.

Here are some of the steps we have taken to work towards carbon neutrality and reduce our overall environmental impact:
- Our workshop is powered 100% by renewable energy
- We partner with women led reforestation initiative who plant a tree for every YEWO item sold
- We operate using a responsible and transparent supply chain, including investing in recycled metals.
- We practice a zero waste mindset through our making process; scrap metals are saved, melted down, and re-used.
PLANTING TREES & SUPPORTING WOMEN +
Instead of working with a Third Party carbon credit organization, we partner directly with a local women-led organization based 15km from the YEWO workshop.

With every purchase, you are planting a tree in Northern Malawi while supporting the woman who planted the seedling as they combat climate change in their homes, communities, and beyond.

We work to plant a variety of trees, including: fruit trees, moringa medicinal trees, indigenous trees, and pine trees. The trees are cared for until they are fully established (up to 2 years).